Watch Care & Repair Policy
Frequently Asked Questions
Your watch is warranted for a period of two (2) years from the original date of purchase under the terms and conditions of the warranty. This warranty covers materials and manufacturing defects, the watch movement, hands and dial only. A printed copy of the receipt is required for warranty repairs. For the warranty to be valid, you will be required to send in a copy of your proof of purchase.
THIS WARRANTY DOES NOT COVER:
• Any defect in materials and workmanship of battery, case, crystal, strap or bracelet; including plating on the case and/or bracelet.

• Damage resulting from improper handling, lack of care, accidents, normal wear and tear or aging.

• Water damage, if care instructions for the product's water resistance levels (as marked on the product) were not followed.

• Products that are not purchased from an authorized retailer.
This warranty is void if the watch has been damaged by accident, negligence of persons other than authorized sales or service agents, unauthorized service, or other factors not due to defects in materials and workmanship. This warranty is void if the serial number or product date codes or other tracking marks have been removed, altered or obliterated.
CLEANING AND CARE INSTRUCTIONS
Your Kendra Scott watch should be cleaned with a soft cloth and water only. Do not submerge your watch in water. Your watch should also be rinsed clean and dried with a soft cloth after any saltwater use. To maintain the new look of metal bracelets, we recommend periodic cleanings of the bracelet. Dip a soft brush in warm soapy water and gently rub the bracelet clean. Your strap also requires care and caution. The natural material used to manufacture your strap is sensitive to the elements. Water, sunlight, or exposure to chemicals or perspiration will cause discoloration, shrinkage, and damage to your leather strap. Use a soft cloth to wipe your strap clean when removing your watch.
WHAT IS THE RETURN POLICY FOR MY WATCH OR WATCH BAND?
All unworn, unused items you would like to return for a full refund must be sent back to the Kendra Scott distribution center within 30 days of receipt of product in original packaging with tags on and all watch parts, including additional links removed in sizing.
Kendra Scott, LLC provides FREE RETURN SHIPPING for eligible items. A pre-paid, pre-addressed return shipping label will be provided with every qualifying order purchased on the website. If you have misplaced your shipping label, you can print a replacement pre-paid return shipping label by visiting kendrascott.com/returns. Please allow up to 15 business days for your return to be processed. Business days are Monday-Friday except for federal holidays. Return processing begins after your package is delivered to us. For any inquiries concerning returns or exchanges, please contact Customer Service via email at service@kendrascott.com or by phone: 866-677-7023, Monday – Friday, 8am – 5pm CT and Saturday – Sunday 12pm – 5pm CT.

HOW TO SET THE TIME ON YOUR WATCH.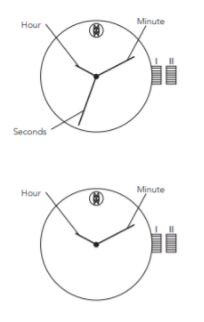 TIMEPIECE CARE AND PRECAUTIONS
Each Kendra Scott timepiece is designed and manufactured to exceed the highest of standards. Unlike most other mechanical objects, a watch operates non-stop. In order to ensure optimal performance and longevity from your timepiece, please review the simple guidelines for care and precautions of your new Kendra Scott timepiece.
WATCH CASE AND MOVEMENT CARE
Your timepiece should be cleaned with a soft cloth and water only. Do not submerge your timepiece. To ensure long use and trouble-free operation, we recommend servicing your timepiece every 18-24 months.
PRECAUTIONS
Your timepiece is a complex integration of parts and components brought together by skilled craftsmen. There are certain actions or environmental situations that may damage or impede your timepiece's ability to perform optimally. It is important to avoid the following conditions: extreme heat or cold, as well as prolonged periods of exposure to direct sunlight, exposure to wet conditions that exceed your timepiece's water rating. Never operate any of the function buttons or crown when timepiece is in contact with water.
HOW DO I REPAIR MY WATCH?
The covered components will be repaired for free or the watch will be replaced if it proves to be defective in material or workmanship under normal use. To send your watch in for repairs, please click

here

. If your watch cannot be replaced, we will work directly with the manufacturer with additional options.
Due to the nature of limited edition production, limited edition Kendra Scott watches will need to be evaluated by a repair technician before repair work will begin. Repair quotes or other warranty options will be provided to the consumer once evaluated by a repair technician.
STEP 1: SELECT YOUR PRODUCT
Select your product category (watch) and brand (Kendra Scott).
Enter the style number of your watch (typically located on the back of the watch, ex. ES1234 or FTW1234) and check whether the warranty is still valid for your watch.
STEP 2: SELECT YOUR REPAIRS
Check the required services and you'll see an estimated total for the repair (but you don't have to pay until we appraise it in person). You may include any comments you would like to forward to a repair technician in the text box. Enter your email and return shipping details so that we know where to send updates and the watch back to. Verify the details of your repair request to complete it.
STEP 3: SEND YOUR WATCH TO OUR REPAIR CENTER
Print out the shipment form which has our repair center's shipping address on it as well as instructions on what to include in the package. Then send your product off to our expert technicians.
You can check the status of your repair request on our repair site here.
I HAVE ADDITIONAL QUESTIONS ABOUT THE STATUS OF MY WATCH REPAIR.
You can contact kendrascott@fgservices.com for additional questions related to your watch repair status or call 1-877-585-3295, Monday – Friday 8am – 6pm CT, Saturday 9am – 7pm CT.
HOW DO I APPROVE A QUOTE AND PAY FOR MY REPAIR?
After your product has been evaluated, your personalized repair quote will be sent as an email directly to your inbox.
Click the link in the quote email

Enter your credit card information

Choose to use your shipping address as the billing address or provide a different billing address for the credit card you are using to pay the quote

Click "I agree with the Terms and Conditions and Privacy Policy"

You will get a confirmation email after successful payment. Your repaired watch will be sent back to your address within 1-3 weeks after the quote is approved.
You can contact kendrascott@fgservices.com for additional questions related to your watch repair status or call 1-877-585-3295, Monday – Friday 8am – 6pm CT, Saturday 9am – 7pm CT.
If you have trouble accessing or paying for your quote, make sure you are using a Google Chrome browser.
I NEED TO GET MY WATCH/ WATCHBAND RESIZED.
Extra links for all eligible watches and watch bands can be ordered by calling 1-877-585-3295. Make sure to have your watch's style number (located on the back of your watch, e.g. ES1234 or FTW1234) available. Once the order has been placed, please allow 1-2 business days for the order to process and 7-10 business days to receive your links via USPS. You can take your watch to a Kendra Scott store or any reputable jeweler to have the links added to your watch.
All orders will have an $8.50 shipping and handling fee. Customers may request up to 3 additional links free of charge. There is a limited quantity of links; therefore, availability cannot be guaranteed. For more information, please contact: kendrascott@fgservices.com or call 1-877-585-3295, Monday – Friday 8am – 6pm CT, Saturday 9am – 7pm CT.
HOW DO I REPLACE THE BATTERY?
You can submit a repair request to have your watch shipped and the battery changed at our service center. The batteries in our traditional watches are expected to last 2 years from when they are replaced. Click

here

to get started online.
You may also choose to have your battery replaced at a local reputable jeweler; however, any damage to the watch may void the warranty.

If you need a replacement battery, we don't recommend trying to change the battery yourself, as the internal movement can be damaged in this process.
Kendra Scott Women's watches are 3 ATM; Men's watches are 5 ATM. Please refer to the diagram below.
​

HOW DO I CHECK MY ORDER STATUS?
After submitting an order shipping within the United States, you should be taken to a page that provides an order confirmation number. Within a few moments, you will receive a confirmation email from us. After your order has finished processing and is ready to ship (for domestic orders with ground shipping, allow up to five business days), you will receive a second email that provides the UPS tracking information for your shipment. Please contact Customer Service (service@kendrascott.com) if you have not received your order confirmation emails.