842177155288
Details
https://www.kendrascott.com/jewelry/categories/earrings/842177155288.html
842177155288
Try

Them On!
Final sale
No returns or exchanges accepted
Promotions
This product is not eligible for shipment outside of the usa.
STORE PICKUP NOW AVAILABLE!
Select store to check availability
The store you selected is closed today. Your pickup order will be fulfilled on .
Please check the store locator for days and hours of operation for this location. If you need your order sooner, select a different store. If not, click continue.
Additional Information
We love this styled with...
Customer Reviews
3.6
3.6 star rating
22 Reviews
3.6
3.6 star rating
22 Reviews
Thank you for posting a review!
We value your input. Share your review so everyone else can enjoy it too.
Thank you for posting a review!
Your review was sent successfully and is now waiting for our staff to publish it.
Filter Reviews
Where Did You Make This Purchase?
Would You Recommend This Product To A Friend?
What Was The Occasion For Purchasing This Product?
Did You Purchase This Product As A Gift?
What Is Your Favorite Kendra Scott Store?
How Likely Are You To Recommend Kendra Scott To A Friend?
5.0 star rating

4.0 star rating

3.0 star rating

2.0 star rating

1.0 star rating
Where did you make this purchase?
Would you recommend this product to a friend?
What was the occasion for purchasing this product?
Did you purchase this product as a gift?
What is your Favorite Kendra Scott store?
How likely are you to recommend Kendra Scott to a friend?
Love the Danielle earrings!
Review by Lou12 on 19 Aug 2018
review stating Love the Danielle earrings!
Bought these on sale and loved the color. When I got them, they were more green than blue, but still beautiful and go with so much. I really like them for casual wear or when dressing up.
On Danielle Statement Earrings in Aqua Apatite
A little disappointed
Review by Debi on 9 Aug 2018
review stating A little disappointed
I bought these on somewhat of an impulse as the picture was absolutely stunning. When I received them a couple of days later they looked nothing like the color in the photo but instead more of a muted blue green. And boy are they heavy!! If not on clearance I would have returned them but instead looks like my daughter will be getting a new pair of Kemndras!
On Danielle Statement Earrings in Aqua Apatite
Disappointed
Review by Biki V. on 28 Jul 2018
review stating Disappointed
I had been wanting to buy these earrings for so long because I just feel in love with the colors in the stones. Finally I ordered them, and could not wait to get them! I was so excited to open the package. And when I did, I thought maybe the wrong item was sent. They do not look like the picture that is shown as an example. To me, they're actually boring. I'm most likely not going to wear them, maybe I'll give them away as a gift. I understand that they're are variations in color /texture with natural stones, but these are just not appealing to me.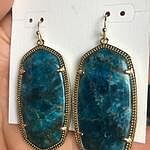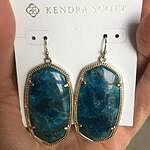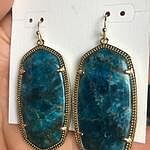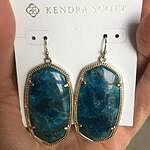 On Danielle Statement Earrings in Aqua Apatite
Earrings
Review by Summertime247 on 22 Jul 2018
review stating Earrings
There are stunning can go wot just about anything I gave 4 stars due to them being heavy !!! There are deffently statement earrings but not a everyday use due to the weight in them but the color have so many different flecks of grains running through them they are stunning
On Danielle Statement Earrings in Aqua Apatite